25m / up to 12 guests / 8 crews
Private Charter Available // Price Range $$
INQUIRE NOW - BEST PRICE GUARANTEE
About Adishree Liveaboard
Adishree boat was built in 2015 and launched in May the following year. By taking the authentic Phinisi art from Sulawesi, Adishree allows its guests to sail on Indonesia's sublime ship. The boat has a length of 25 meters and can take up to 12 guests onboard. Your sailing trip with Adishree boat is accompanied by 8 cabin crews including the local guide and divemaster who will make sure you can the best customer experience during the trip.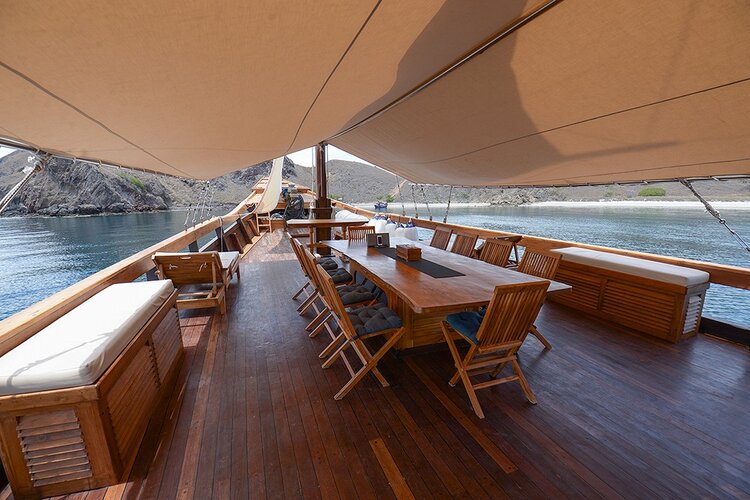 In Detail
With Komodo Island as the main destination, the Adishree boat provides its guests with the best sailing and staying experience. There are 5 cabins which function as the best accommodation in the middle of the sea. They are equipped with air conditioners, amenities, en-suite bathrooms, and a water heater. All of these spacious cabins are specially made to let you have the feeling of freedom.
1 master cabin which is located in the upper deck. It provides a double bed, thus it is a suitable choice for couples
2 bigger cabins that are located in the lower deck. Each of the cabin provides one double bed and one single bed, a perfect choice for a small family and groupies
2 smaller cabins that are located in the lower deck. Each of the cabin provides one double bed, another good choice for everyone
Life on Board Adishree
As a medium-size boat, it offers a large outdoor area as well as an indoor dining and lounge area which are furnished with a flat-screen TV and the DVD player. These areas are dedicated to making guests feel the warmth of collective sailing adventure.Adishree boat provides you the most relaxing trip through 3 sundecks with the incredibly comfortable sofas and bean bags. For the adventurous souls, you can also catch your thrilling adventure with the leisure gears that are available onboard. There are 2-speed boats, 2 stand-up paddleboards, 2 canoes, 2 life rafts, 30 life vests, and 6 lifebuoys, to complete your sailing experience.
Adishree Liveaboard Gallery
Send us a request for Adishree Liveaboard, our team will reply within 24 hours with the best price guarantee.